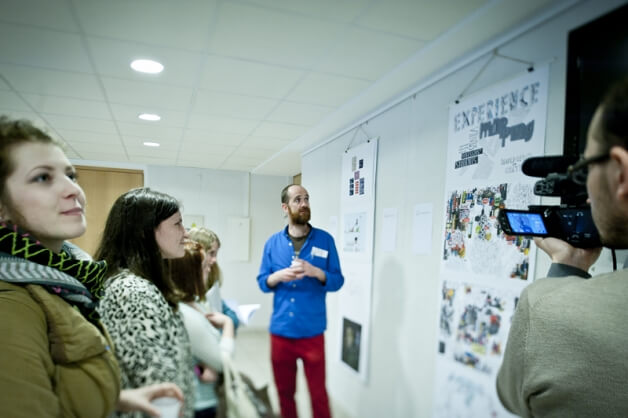 Akademinis laipsnis
Sociologijos magistras
Studijų trukmė
Nacionalinis studijų programos kodas
621L30006
Apie programą
The program aims at providing Belarusians and other countries' nationals the opportunity of state-of-the-art graduate-level university education in sociology of culture, with advanced training in gender theory, critical urban studies, and visual and cultural studies, that conforms to the European standards in higher education in this field of studies.
The program focuses on:
educating researchers capable of facilitating the modernization of the Belarusian (and broader – the post-Soviet) academia and its integration into the European and global intellectual environment in the field of sociology of culture and gender theory;
​educating the new generation of researchers capable of using their theoretical background in sociology, anthropology and theory of culture to conduct original research into pressing national-level and global issues, as well as putting their knowledge into practice while interacting with different governmental and non-governmental structures;
​educating critical intellectuals fostering the development of the democratic public sphere and ready to actively participate in promoting and communicating academic knowledge via the variety of media.
Specialization in Critical Urban Studies
The major is reflective of the situation of the University as a Belarusian project located in the Lithuanian capital but at the same time influencing the dynamics of the cultural sector in Belarus and well-equipped for educating professionals in the field of media and visual culture. The major comprises three basic areas of study: "The City and the Media" (covering forms of urban environment representation through history, visualizations and digitalizations of environment, virtualization of the city), "Transborder Urbanism" (covering the role of the cities and urban life in the regional dynamics, the impact of the border regimes on the urban development, the impact of migration on the urban environment and regulating this impact), and "Localized Creative Industries" (covering the urban environment valorization regimes, community studies, sociology of cultural sector, spatial interventions and event capitalism.)
Specialization in Gender Studies
The graduate program in Gender Studies, launched in 2000 in Minsk by the EHU's Center for Gender Studies (made possible with the support from J. and C. MacArthur Foundation) and reopened in Vilnius in 2005, is interdisciplinary and targeted at young researchers striving to acquire systematic knowledge in gender theory.
Specialization in Visual and Cultural Studies
Visual and Cultural Studies is a new interdisciplinary field that has emerged at the intersection of sociology, philosophy, cultural theory, and art history. Its central focus is the study of modern society in the context of its "visual turn."
Karjeros perspektyvos
Specialization in Critical Urban Studies
Graduates work in cultural sector, non-governmental organizations, city administration, universities and research centers, mass media, project activities, or continue their education in urban studies and related disciplines at the doctoral level.
Specialization in Gender Studies
Graduates work as teachers of gender theory, cultural studies, and social theory in colleges and universities; as researchers at research institutes and centers; as experts and advisors in institutions dealing with education, cultural policy, social work, and in various non-governmental and community organizations whose work is related to issues of gender equality and education; as advisors at governmental and non-governmental organizations and institutions dealing with the issues of gender policy, gender education, reproductive rights, social work; as well as in mass media.
Specialization in Visual and Cultural Studies
Graduates work as researchers at research institutions and centers; as teachers at colleges and universities majoring in sociology of culture and audio-visual communications; as film, television and art critics in the mass media, or as media analysts and producers in the creative industries.
Paraiškos, mokėjimai ir stipendijos
Tuition fees for Academic Year 2016/17
Citizens and residents of Belarus
All other citizens
Blended mode
Ranking GPA 9,61 or higher – €0/year
€2500/year
Ranking GPA between 9,21 and 9,60 – €750/year
Ranking GPA 9,20 and below – €1500/year
* Ranking GPA for Master's prospective students is calculated on the basis of: 1) Research project; 2) English language exam; 3) Bachelor's diploma subjects average
Please click here for general information about application process, requirements, financial assistance (in Russian). To find out program-specific requirements, please see here (in Russian).